All4Mats Ltd became the UK Distributor for Ritek Blank Media products in 2001 and is still one of the biggest suppliers of Ritek Blank Media in Europe today almost 22 years later
In order to ensure optimal efficiency and consistent quality Ritek, the worlds leading manufacturer of Optical Media and producer of the first Blu-ray Discs in Taiwan, selects superior materials and applies world class automated production management systems towards manufacturing it's unique discs.
Ritek Medical Line Discs are revolutionary designed with better compatibility, stability, higher quality and durable preservation qualities
For the Medical Institutions Ritek has designed and certified a Special Medical Line (MD Line) specifically according to requirements of this medical application.
Ritek Medical Line Discs use an exclusive high quality phase material in the recording layer that ensures reliable recording and playback.
With the high quality organic dye, these Ritek discs provide best durability to store and protect important data for long life
Especially designed for scientific, research, high quality performances and other professional uses.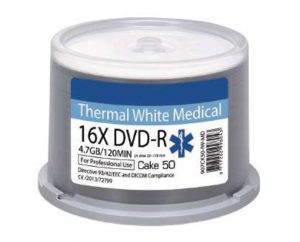 In order to ensure optimal efficiency and consistent product quality, RITEK, the world's leading manufacturer of optical media and producer of the first Blu-ray Disc in Taiwan, selects superior materials and applies world-class automated production management systems towards manufacturing its unique discs.
RITEK Medical Line Discs are revolutionarily designed with better CD- compatibility, stability, higher quality, and [SRO rere 3 durable preservation qualities.
RITEK disc provides best Architects durability to store and protects important data for long life. Especially designed for Scientific, Research, High Graphic designers quality performance, and other professional use. Interior designers
Businesses and the accounting department, Public authority units Educational institutions.
Eccentricity =50um
13/ltop (I3R Avg.) 0.3~0.7
111/Itop (111R Avg.) =0.60
BLER (Avg.) <50cps –
BLER (Max.) <200cps Siring by E32tot =0
LITE-ON _52327
3T Pit (Land) Jitter =45ns I
11T Pit (Land) Jitter <45ns 48X~52x
Ppa(Push-Pull) 0.08 ~ 0.12
Cross Talk <50%
Reflectivity (Riop avg.) =60%
RN <30
Item Specification Remarks Instrument
13/114 (Resolution) >0.15
114/114H(114Modulation) >0.6 Writing &
PI SUM8 (max) <160 riting by
POF =0 TEAC-W5600 URE
Bottom Jitter <10% (1)
Reflectivity 45~85%
(1) The book spec of bottom jitter is '<8%!, but this spec is defused by playability data.
Pre-recorded Characteristic
RITEK Medical Line:
@ CD-R Printable White Medical
@ CD-R Thermal White Medical
@ DVD-R 16X Printable White Medical
@ DVD-R 16X Thermal Medical
We ship parcels using DPD, so you can expect a fully tracked delivery with a 1 Hour Window Time Slot to Mainland UK. International parcels may take a bit longer.
We also ship out Pallets via The Palletways Network, we can offer quarter, half and full pallet prices as well as Next Day or Economy Delivery, prices to your Post Code available upon request
If you have placed your order before 12pm, you can expect it to be shipped that day.
You can give us a call or fill in the online form and one of our friendly staff will contact you to finalise the process
All4Mats has been trading since 2000, with 23 years of experience within the blank media industry you can be sure we have the right expertise and knowhow to deliver the right product to your door.
Tracking will be emailed and sent by SMS directly to your phone, informing you of delivery time and delivery options.
Get the products you need, straight to your door.
DVD-R, CD-R, BLU RAY & more, shipped across the UK with next day delivery available.